My CV so far ...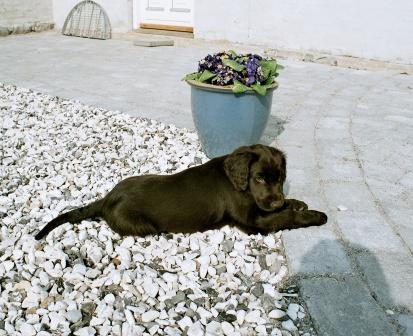 Hi, I am Pandra and I am a brown Flatcoated Retriever, a one-in-ten rarety.
I live in Denmark with my mum and dad and Lisa, my best friend.
She is also a Flatcoat, 11 years old, but she is black.
My real mum is Dutch, my real dad is Danish,
my two-legged mum is German by birth and my two-legged dad is English.
What does that make me??
Lisa is Swedish, by the way.
We live in the country.
We have a lot of space for
walking, roaming, running, digging, training.
It is fairly difficult to get into real trouble here,
but once in a while I manage it.
Lisa never gets into trouble.
She is always sooo good.
Anyway, we have a lot of fun.
My sport is obedience.
It is Lisas sport too.
She is a Danish Obedience Champion.
I am starting to try for the title this spring.
I am only three years old, Lisa is eleven.
If I wanted to, I could take my time. But I don't want to take my time.
The one thing I am bad at, is being patient.
I have very little patience.
Why walk, when you can run?
Why stand, if you can hop?
Why wait, if you can start?
Why!!
To wait for things to happen is agony for me.
But my mum says, I nevertheless have a lot of common sense.
I can see reason.
Although it sometimes takes a while.
I really can't help it. It's in my character.
That's why I often hear:"Too fast!"
And then we start all over again.
And quite possibly again again.
Until I get it right.
I usually get it right in the end.
I love to find solutions.
I took part in the Danish Championships
in obedience category 1 in 2004
and came 3rd.
I'm quite proud of that,
because I really was only a puppy then.
It was a super day.
I took part again in 2005,
this time in category 2
and I came 4th.
Watch this space!
I'LL keep you informed.
Back to:
Eigene Website kostenlos erstellt mit Web-Gear
Verantwortlich für den Inhalt dieser Seite ist ausschließlich der Autor dieser Homepage. Missbrauch melden